How To Choose Image Annotation Tool for AI Project
Let's face it, there are lots of options out there for data annotation tools. Ultimately, you want a program that makes data annotation as simple and efficient as possible. When you choose a platform, you should consider your use-cases, quality control requirements offered, and your team's ability to collaborate.
Types of tools for different data include:
Data labeling tools
Image annotation tools
Video annotation tools
There are different tools you can use for your annotation project. Some platforms offer tools that can annotate each of these types of data. This makes data annotation much more efficient. Using a single platform can also help you keep your projects organized and connected. Keylabs, for instance, has both automatic and manual image annotation tools, semantic segmentation image annotation tools, video annotation tools and image annotation tools for machine learning.
Some annotation options offered within these tools include 2D, 3D, cloud, local, and network storage. You can insert pre-annotated data into Keylabs as well to use in future projects. Whether you're starting a new project or completing an old one, you can incorporate your work into the program. This keeps your progress streamlined at all times.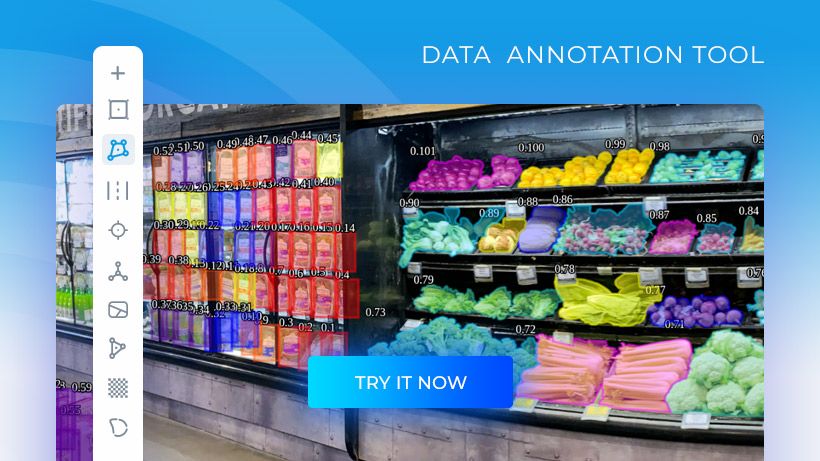 Quality Control Requirements
Data quality is an essential aspect of data annotation. Without high-quality data, your annotation may be lacking. This can lead to further issues in the future. Luckily, platforms like Keylabs offer quality control features built right into their tool. Examples of these quality control features include:
Breaking big tasks into smaller tasks to improve accuracy and efficiency
Grading the reliability and accuracy of specific datasets
Comparing the accuracy of annotators to the data
Assigning tasks to your team based on prior performance
Flagging specific errors for review
The most important quality control features offered by the best image annotation tools are flagging errors and grading accuracy. Without these two control features, errors will arise in your annotations. This can result in your annotating being an unfortunate waste of time. The more accurate the flags, the higher quality of a product you will have at the end of your annotating. Fewer flags mean a higher probability of error.
There may be other quality control features in your data annotation platform. You must inquire about any prospective platforms specifically, for example, image annotation tool computer vision. The more quality control features included in your program, the better. This will decrease potential errors that can snowball into big problems. Some of these could even have deadly consequences such as with image annotation tools for medical purposes.
Though your program may have quality control features, you still don't want to rely on ai image tools to fix every problem they come across. You'll still want lots of human supervision and completion throughout the process. Some tasks (such as QCs) are more susceptible to errors that are easily missed by tools like computer vision image annotation tools.
Do You Have An Internal Team?
Finally, you'll want to consider your team's ability to help you with your online image annotation tools. As stated, many parts of the annotation process still need direct human involvement. You'll need an accessible, user-friendly platform for all your team members.
Luckily, Keylabs can do that. We know project management and collaboration are important to you, the same way they're important to us. That's why Keylabs offers the ability for supervisors to:
Assign annotation tasks
Analyze annotator analytics
Generate productivity metrics
Create project timelines
Project road maps
In addition to these, managers and annotators can use the platform to communicate in real-time collaboration. For machine learning image annotation tools, Keylabs offers the best image annotation tool for machine learning on the market. This means you can keep your team motivated and productive all day long.
Of course, you'll have to ensure that your teammates are ready to handle a data annotation program like Keylabs. Without proper annotation image tool training, your annotators will struggle to succeed. You should provide heavy training for your team before giving them tasks to prevent this. Sample assignments may help as well.
Before starting training, assess your team's familiarity with platforms like Keylabs. If they are already familiar with the basics of fast image annotation tools, video annotation tools, and labeling tools, you can skip to specifics about the platform you're using. If your members aren't familiar with these processes, be sure to navigate them through the processes as well as the site your team will be using.
To speed up annotation image tool training and give your employees a reference guide, you should have clear documentation on using the chosen data annotation platform. Even a simple guide can prevent your teammates from making mistakes on their first tasks.
When you do begin to assign tasks to your teammates, make sure you are monitoring their progress and using the data annotation platform's quality control measures to their full extent. The earlier you catch errors and correct them, the better.
Choosing The Right Platform for Data Annotation
Data annotation can be difficult – but it doesn't have to be. Finding a platform like Keylabs is the difference between an average ai build and a great one. The ability to keep your tools and projects in one spot can help keep your projects organized and accessible to your teammates. It can also ensure that your team is keeping open communication and remaining productive throughout the day.
To read about Keylab's several annotation tools, take a look at our features and book a demo today.