The Top 5 Collaborative Video Annotation Tool List of 2022
When it comes to annotating videos, Keylabs offers your team the best tools possible. That's why we compiled a list of the top 5 collaborative video annotation tools of the year for you to choose from.
What Makes A Great Collaborative Video Annotation Tool For Your Team?
There are a few different things that take video annotation tools from ordinary to extraordinary. Some of these factors include:
Task assignment
Tool organization
Streamlined communication
Easy review and management
These are just a few things your team needs to run as smoothly as possible. Luckily, the best video annotation tools we've compiled below have all these and more for those with a long list of needs.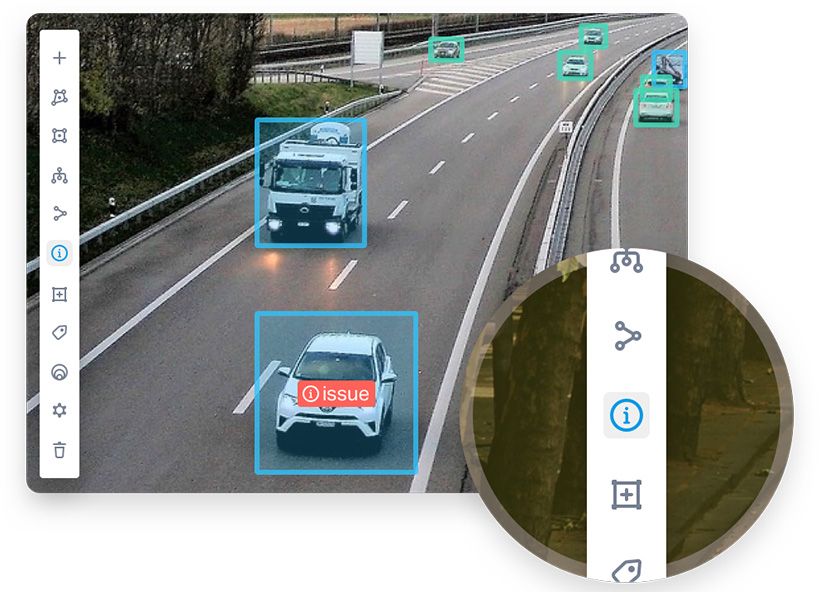 Best Overall Video Annotation: Keylabs
Keylabs has some of the best video annotation tools on the market. We pride ourselves on our high-performance features designed explicitly for fast-paced teams. Keylabs offers a list of video annotation tools, including:
Video classification
Shape interpolation
Automatic annotation
Project management interface
Data quality control
Keylabs also offers easy communication between team members and automatic video annotation tool task assignments, which can streamline delegation within your team. You can find more information about Keylabs' image and video annotation tool capabilities on website. We'd love to speak further with your team about any video annotation tool or online resources that interest you.
Best Browser Video Annotation Tool: VEED.io
Looking for video annotation without a software download? VEED.io may be a good option for you! VEED.io is a browser-based video annotation tool that allows you to:
Create subtitles
Incorporate text
Add graphics and images
It's an extremely simple website that can help you annotate on the fly. However, VEED also has a few restrictions regarding annotating quick videos.
Plus, you don't need any sort of login or account to use this tool. This is a great backup option for teams looking to quickly slap some text or subtitles for a video without using a complex software platform. Those creating simple videos for sites such as YouTube may opt to use this website to get the job done without complications.
Best For Multimedia Project Management: Filestage
If your team is more involved with the project approval part of the annotation process, Filestage is a great choice. Filestage is a video annotation tool for deep learning that allows your team to manage multiple project types at a time, including:
Videos
Images
Graphics
Documents
Scripts
This highly organized platform helps you take a project at any point in the process and bring it to completion. It's great for workers who tend to multitask between multiple projects at once.
Filestage offers quick, one-click annotations to make changes and provide feedback to your team members. It also allows you to look at the prior versions of a file so you can analyze the changes that have been made to it. This is a great way to keep track of how projects are progressing and which projects need more work than others. Plus, Filestage can also turn annotations into to-do lists for team members, easily assigning them new tasks.
Using Filestage is a great option for teams that annotate lots of other types of media in addition to videos. Because it is so flexible, Filestage is a good all-around software for teams working with a variety of projects who may have to combine these media types at times.
Best For Feedback: Frame.io
If your team uses any Adobe products, Frame.io is going to be a great choice for you. Frame.io is a cloud-based online video annotation tool that is heavy on collaboration. Team members can upload media to this software so the rest of their team can annotate it in real time. In addition, pinpoint feedback can be provided per frame, and drawing tools are provided so team members can write, draw, or otherwise annotate the video.
Frame.io is another all-around software that can be used in many ways. For example, this platform makes managing your videos and annotations easy, which can help assign new tasks and organize completed ones. You can also look at old versions of projects so you can see how they've changed over time.
Ultimately, platforms like Frame.io are great because they help organize edits and review requirements. This software has some of the best video annotation tools available to your team to work on projects, review them, revise them, and ultimately complete them.
Best For Team Engagement: Evercast
Finally, Evercast is an excellent platform for those that love collaboration. Evercast is known for its easy ability to share content and make timestamped notes on projects in real time, so your team never misses a beat. This platform even has virtual rooms that your team can gather in remotely to discuss the project or assign new tasks.
Teams that use Evercast will find themselves using drawing software as an online video annotation tool. They can also video chat while they work and annotate live content in addition to pre-recorded content. Because Evercast is designed to take office fully remote, it provides a feeling of being connected without having to sit next to your coworkers all day.
Because of the variety of options Evercast offers, it's best suited for highly-engaged teams that are used to being in a collaborative office setting. Those who enjoy working remotely but miss an in-office feeling of togetherness will prefer this platform. With Evercast, you'll find that working together has never been so easy.
Conclusion
If your team is in need of a new video annotation tool, the above software can help. Whether you choose Keylabs, VEED.io, Filestage, Frame.io, Evercast, or a combination of several of these great tools, your team will be well on its way to success. Visit our home page to learn more about Keylabs or book a demo.